Marketing Overdrive | A Podcast from Your Business Marketer
Looking for a marketing-related podcast that is engaging, educational, and even empowering? Welcome to Marketing Overdrive, a fast paced, high octane show that will educate you on the latest industry trends and topics. Hosted by Greg Kalikas (TV/Radio personality, accomplished entrepreneur, and marketing veteran) and Rose Browning (Media Maven, digital and traditional marketing specialist), the show features guests who are real life overachievers, with real life stories to tell about the real life journeys they've traversed.
So come along for a solid dose of inspiration, some fascinating conversations, and a whole lot of laughter added to the mix!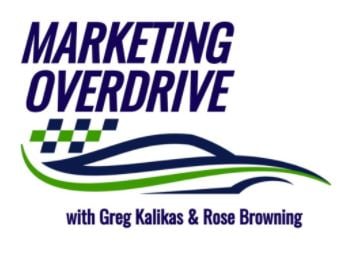 Interview with Samantha Brodie On this Episode, Greg and Rose go on the road for an interview with TL Worldwide...
Subscribe on your favorite platform
Coming soon on: Youtube, IheartRadio, Audible and all of your favorite podcast platforms!